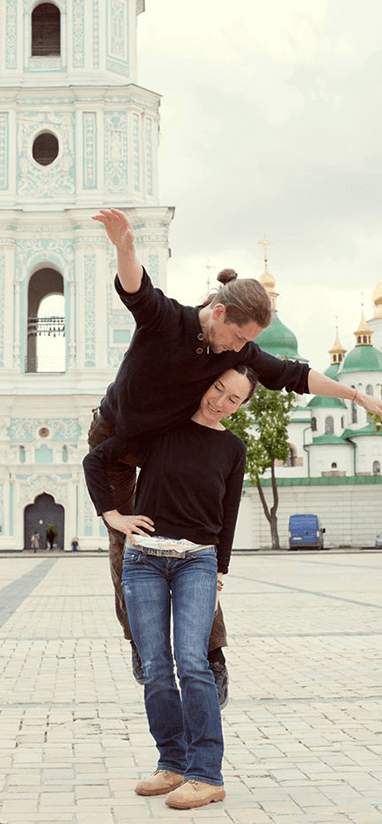 Allowing yourself to play
CI & Contemporary dance technique
In this master class Contemporary Dance technique and Contact Improvisation are going to mutually intertwine, and exchange energy like partners in a duet dance.
The focus and the release specific to Contemporary Dance will help us better understand our body, enter with relaxation and smile in Contact, strengthen our body and freely direct our internal flow. All this, surely, will give us more courage and trust in our body while engaging in Contact dance. At the same time, pair interactions, and the overall movement investigation specific to Contemporary Dance, will become more productive and profound: movement control, external points of attention, support, direction, weight, mutually sensing partner's center.
We will include elements and principles that we use in our personal work as dance partners:
Jumping and support
Soft falling
the "zero point"
Redirecting the movement
Guiding the point of focus
And, not to forget, along all this intense work together... dancing, noticing, and dancing again :) we are going to spice up our learning process with tasty humor and play ;)
Contact Improvisation for beginners
Newcomers wanted!
"Contact Improvisation" dance - a wonderful opportunity to have a physical dialogue with a partner, with the space, with yourself.
CI includes the "physicality" of our body manifestation, and the "chemistry" of our state of mind, emotions, memory, mood, breath, personal rhythm, speed... Step by step, addressing first the physical laws, then building up towards basic principles of CI, we are going to discover how touch, attention to breathing and awakened emotions of our body, are going to enrich and expand our physical dialog. We are going to observe how, by using simple stuff and accessible directions, our dance will unfold in its greatest bodily and emotional manifestation.
We are inviting you to play, dancing, and playing, dance!
Bio
Alexandra and Serghey started their collaboration in 1997, in a modern dance group "Voices", under the direction of Angela Doniy. They became a duet 2000. Since then they dance, improvise, teach, and choreograph together. They take part in international projects performing and teaching. Together they organize international projects and festivals in Moldova.
They organized 6 international festivals: "Impulse to grow" in 2000, "Traditions and modernity" in 2001, "Phenomenon of relations" and "Gender and cultural Identity in dance" in April and September 2003, 5th international festival "Interaction" in 2006, "Children and adults, points of intersection" in 2009. They are guiding weekly jams of Contact Improvisation, and a continuous series of master classes and events of contemporary dance choreography In Moldova.
They are also the leaders of contemporary and folk dance school "Fantezia" in Chisinau, choreographers and dancers of contemporary dance and performance group "Voices".
Teaching geography: Moldova, Ukraine, Belorussia, Bulgaria, Israel, Estonia, Russia, Latvia, Italy, France.