One week of CI intensive classes, video-making and performance laboratories,
jam sessions, discussions and meals together
+ towards the end, open events for public:
// street performance
// video projection of the films created in the festival
// participants performance
// teachers performance.
Prices:
220

EUR
until 1
st
of April
260

EUR
after 1
st
st of April
// Full access to all intensive classes, laboratories, two meals/day and other activities

Centrul National al Dansului Bucuresti (CNDB)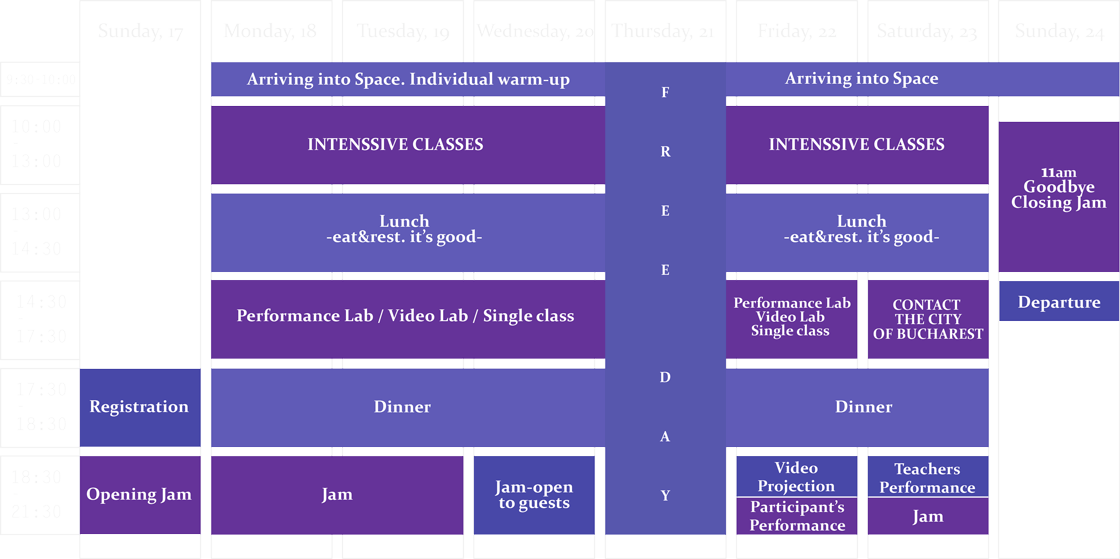 /Teachers & Classes
Poetic Movement
Intensive classes - with Steve Batts!
The intensive will be about improvising in contact. The contact will include direct physical touch but also contact of other sorts:
/ Attention to the relation between what one does and what others do across time and space.
/ Attention to how we create and interpret purpose and meaning in movement.
/ Attention to the process of collaborative real-time composition.
The intention is to connect the inquiry into how to do things to questions of why we do them. To understand better what we watch for when we try to make sense of movement. To become better at understanding the movement of our dancing partners and, through better embodied understanding, to become an enriched improviser.
The course will be of interest to actors, acrobats, dancers and musicians as well as to people with a background in Contact Improvisation. It is also open to complete beginners.
Steve Batts has been dancing and teaching Contact Improvisation and related practices for around 35 years. He creates work, performs and teaches internationally as well as being artistic director of Echo Echo Dance Theatre in Derry-Londonderry, Northern Ireland.
www.echoechodance.com
Poetry film LAB
Poetrymovies laboratory - with Claus Springborg!
Poetry films are short films (1-3 minutes) supporting the reading of a poem. Many poetry films are animations, however, in this lab we will work with creating poetry films where dance and poetry work together to transport the viewers into small atmospheric universes. They can be funny, poetic, grotesque, meditative, peculiar, or whatever you wish. Bring your favorite poetry, your cameras, and a good portion of curiosity and openness. On the last day we will hold a viewing of the poetry films created.
Claus Springborg (Denmark) has worked with dance since 1995 when he began studying modern ballet. He's been studying tango since 1999 and CI since 2010. He has taught tango and CI in workshops and festivals in many countries across eastern and western Europe. He has also worked with composing and producing music and writing poetry/song lyrics. His style of teaching is highly experiential, relaxed, and humorous.
Inner Landscape
Intensive classes - with Mirva Mäkinen!
Main question in this workshop is choice making in contact improvisation. What kind of choices I make when I dance? What is my inner landscape? How do I connect with somatic presence, environment and nature while I dance? We will explore how somatic experiences of contact improvisation affects the choice making. We will also explore some of the main technical principals of contact improvisation, like moving with shared weight, spherical space and disorientation. We will explore floor work, movement through the space and by using experimental anatomy that hopefully will support the dancing.
Once we start exploring our questions about the choice making, we then can look at how this applies to our values in contact improvisation.Are we allowing the other person to see our bodily environments and our inner landscapes? Can we still have our sensations alive while being seen? Can we still connect to listening, seeing and sensing?
Mirva Mäkinen (Finland) graduated (MA) from the Dance Department from the University of Arts, Finland in 2000, before that she did masters of Physical Education from University of Jyväskylä. 2010 she start to do doctoral studies in University of Arts in Helsinki, her artistic research is about Somaesthetics of Contact Improvisation.
From Zero to Flying
Intensive classes - with Scott Wells!
Starting with contact as our foundation, we'll traject towards a space that supports freedom of flight and expression. I'd like to inject some body systems material (BMC and Alexander Technique). For example: Jumping ≠ Flying because jumping is a muscular action, whereas flying is in the bones and is affected greatly by emotions and attitude. For the acrobatic maneuvers everyone will work at their own level and will learn best by building group safety and trust-- everyone will do something new.
I like feedback and will see what the group is up for. We'll be doing my favorite contact exercises and current curiosities. Created or learned over the decades investigation and indulgence.
In 1981 Scott Wells (USA) discovered the pleasure of contact improvisation shortly after becoming obsessed with the struggles of modern dance. He stuck with both, received an MFA in dance from the University of Illinois (1991) and currently directs a company in San Francisco.
Scott's style of contact is athletic and emphasizes freedom of movement, flying, fluid acrobatics (easy to advanced), safety, precision, pleasure and technique.
Register now