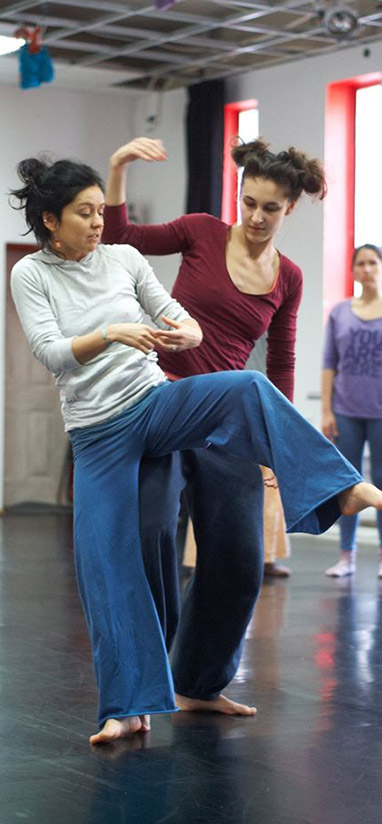 Teacher of contact improvisation, ballet master in the field of modern dance, a professional dancer, performer. Organizer of Kyiv CI International Festival 2009-2014. Teacher and activist of the Kiev CI Club since 2008. 9 years of regular practice of CI in different countries (Ukraine, Russia,Spain, Germany, Finland, Poland, Moldova, Brazil, and others.) Since 2008, teaches CI in Ukraine. She studied with many teachers of the CI throughout the word. The names of those that influenced most on her development: Andrew Harwood, Nita Little, Daniel Lepkof, Ruslan Santa, Mirva Making, Otto Akkanen, Nancy Stark Smith, Adrian Russi, Benno Voorham, Brenton Cheng and others. Participated in performances in various projects, including the ones with Ruslan Santah, Andrew Harwood, Benno Voorham, Steve Butts. Before meeting with CI, from 7 to 21 years, she studied dance in several dance bands, show ballet Kiev, including State Folk Dance Ensemble P. Virsky. Experienced dancer and teacher in various dance styles, from academic (classical, folk dance, modern, modern jazz, contemporary, contact improvisation) to subcultural (hip-hop, salsa, tango, etc.). "I continue to dance, learn and share. CI inspires me again and again. I love life in CI and CI in life."
Nothing Extra (Workshop - 2,5h/14, 15, 16 of June)
"From the movement forms we will try to come to the understanding of the CI principles. Using the principles we will build the movement forms. "Do less" - is one of the focuses of the workshop. Doing less with the body. Doing less with the mind. It's about honest bodily response that occurs in the movement, in dance, in space. As in any learning process when it comes to the moment to "do less», we have to work «hard» at first. Just like always, when you leave your zone of comfort to learn. I think, in contact improvisation, I rather unlearn to do what is already in my base movement than learning to do something new. Could it be that if the "body-mind" is clean from patterns caused by previous experience - then teaching contact improvisation will not be needed? I do not know ... Question gradually moving toward esoteric realms. To be honest, I do not like to write the descriptions of the classes…:) You never know.."